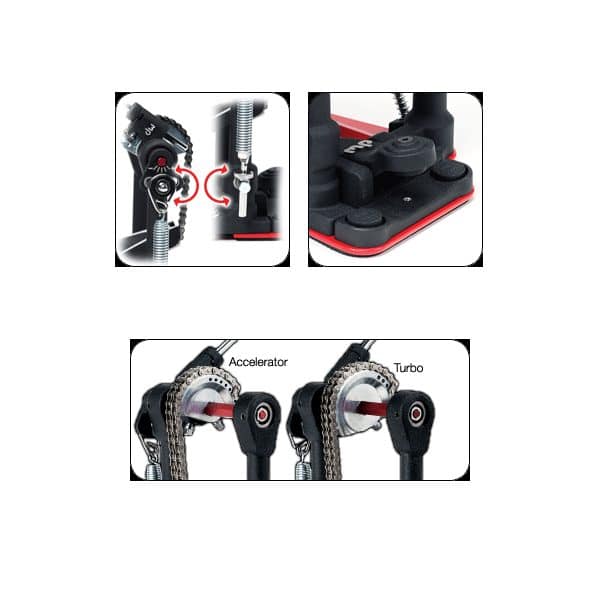 Drum Workshop 5000 Series Single Pedal DWCP5000AD3
£195.00
Drum Central Thoughts and Comments History is key to the 5000, it's been around a longtime and as classic pedals such as the Ludwig Speed King, the 5000 kinda changed everything for drummers. It's by no way the most adjustable pedal in the world (see the 9000) however if you want a quality, no fussing pedal then this is a legend well worth a look at…I wonder if it will it still be around in 5000 years!!
Description
The new updated DW 5000 kick pedal features a Tri-Pivot Toe Clamp System that ensures the pedal and bass drum hoop stay connected and protected no matter what bass drum size or angle. The Non-Slip Rubber Grip Base Plate gives increased stability and a stronger connection between the pedal and drum. A Dual Bearing Spring Rocker makes the 5000 quicker and even more responsive. The Accelerator™ (AD4) drive system offers an eccentric motion that creates an indirect relationship between the sprocket and the footboard, increasing the velocity of the pedal by shortening the length of the stroke. It is ideal for situations that require increased speed and sensitivity.
Availability:

Estimated delivery by 29/05/2019
SKU:

DWCP5000AD3
The DC guys really know their stuff. Best drum store in Scotland. Will be back!
Donavan HepburnDrummer - Take That, ELO
Thanks again drum central! Always great service and quick delivery.
Mark RichardsonDrummer - Skunk Anansie